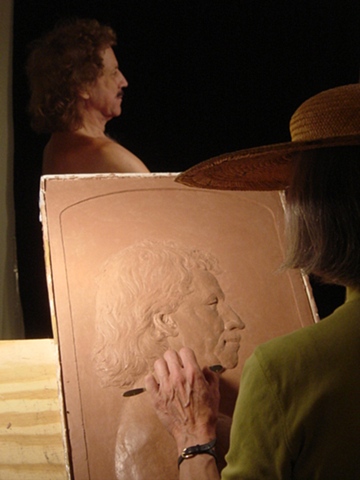 Stephanie Magdziak produces portraits in sculptural relief that will honor her subjects for generations to come. She accepts commissions from individuals and families, as well as institutions that wish to recognize key persons for their generosity or achievement. Whether they portray people, animals, landscapes or ornament, the bas-reliefs provide a lasting legacy that can be permanently displayed, indoors or out.
Magdziak has been praised for her keen sense of observation and empathy for her subjects. "Magdziak's low relief portraits bring life to bronze, plaster and resin and capture the truth of her subjects with remarkable intensity," states Architectural Digest's former Art and Antiques Editor, John Cuadrado. "Acutely sensitive to line, form and texture, Magdziak manages to seize both the corporeal and the intangible."
Bas-reliefs are produced from direct observation, from photographs, or from a combination of both. Ideally, subjects pose occasionally as work progresses. After the client approves the sculpture, a mold is created and one or more casts are made.
Possessing high aesthetic standards and a commitment to creating work of the finest quality, Magdziak adheres to a rigorous process of review and refinement.
"The artist is in service to art," she states, "not the reverse."